National Cyber Olympiad (NCO)
National Cyber Olympiad (NCO) is the exam to test children's expertise in cyber or technology. This exam helps the student to enhance the logical reasoning, computer knowledge, and mental ability.
Benefits of NCO Olympiad Exam
Spreading the awareness about computers education.

Understanding of computer-oriented world at early age

Understanding on the latest technologies in a fast changing environment.
NCO has only one level for exam and conducted in the respective schools of the participants during school hours.
There are  35 objective-type (Multiple Choice) questions for class 1 to class 4 and 50 objective-type (Multiple Choice) questions for class 5 to class 10 of 60 minutes duration.

The question paper consists of three sections:

Section 1: Logical Reasoning

Section 2: Computers and Information Technology

Section 3: Achievers Section

Question paper is different for each date of exam.

English is the Medium of the test.

Test paper are prepared based on CBSE, ICSE/ISC and State Board syllabus.
How to participate
Registration of Students
Student of class 1st to 10th can participate in the exam.
Any school can be registered themselves as a center for SOF NCO Level 1 and there is no fee for the institution to become a registered examination centre.
SOF will send the prospectus containing the Registration forms to all registered schools. Prospectus can also be requested by unregistered schools by sending an e-mail at info@sofworld.org or by calling 0124-4951200. Schools must return the registration forms duly filled and complete in all respects by the due date to SOF.
Roll Numbers
School Registration Form (SRF) and Students' Registration Sheet (SRS) are filled by school's coordinating teacher as per the guidelines & should send to the SOF's office before the due date of submission of forms. Upon receipt of registration form, SOF will register the applicant school and the students. SOF will generate roll numbers as per the Students Registration Sheet (SRS) received from the School.
SOF conducts level 1 exam on three dates and each school may select a date for conducting the NCO as per their convenience. Question paper is different for each date of exam. SOF does not permit the change of date for conducting the exam.
Registration Fee
Registration fees of Rs 125* (including GST) per student / Olympiad  for the schools in India, Bangladesh, Bhutan & Nepal towards cost of examination. Schools has the option to charge an additional Rs 25** per student towards remuneration to teachers to teach and guide, and for other expenses. There is no fees for students suffering from any major physical disability, or an Indian student whose parent was martyred during defence operations.
*US$9 for other countries.

**US$1 for other countries.
Clarifications
School/student can reach out to SOF through phone-call – 0124-4951200 or email at info@sofworld.org for any clarification regarding rules, format/pattern of the paper, etc.
Marking schemes is as below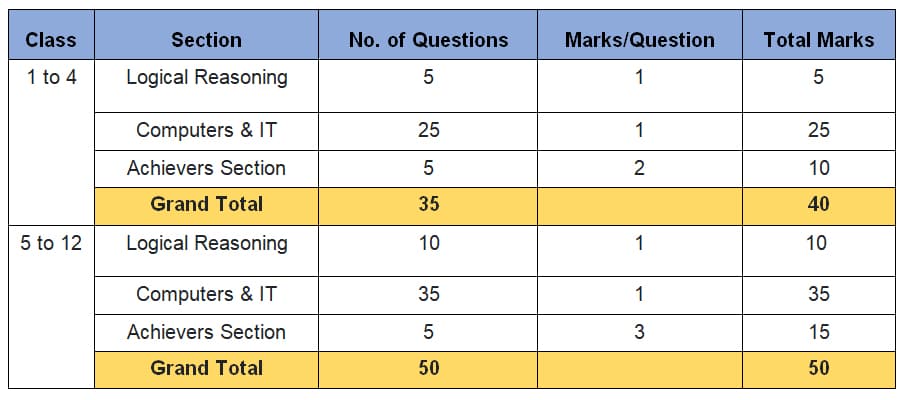 For more details, Please visit the link www.sofworld.org or contact Indian Online School at +91-7993461226.
Science Olympiad Foundation (SOF)