Crest Cyber Olympiad (CCO)
Crest Cyber Olympiad (CCO) is one of the best recommended exam for testing the knowledge of computer science. CCO has been organized at National and International level. CRO is an online exam for class 1 -10 students.
This exam is consists of two sections:
Section-1: 

Computer and IT

Section-2: 

Achievers Section
Benefits of CRO Olympiad Exam
Help in building the skills required to understand and excel in Computer science.

Sharpening of the reasoning and analytical skill to solve tricky problems.
How to participate
Registration of Students through schools: School registered with CREST Olympiad will receive prospectus containing the registration forms. Please send an email to info@crestolympiads.com if your school is not registered and CREST will send you the prospectus. School shall return the duly filled registration forms to CREST Olympiad by the due date.

Registration for individual participants: Student can register as an individual participant if your school does not conduct Olympiads.

Different question papers for each and every class.

Exam is conducted in English

Exam covers CBSE, ICSE/ISC and other State Board syllabus.

Student can take the online exams on web-enabled devices like laptop, tablet or desktop with webcam. Take the test from mobile device is not allowed.

Teacher/parent will be assisting the students of classes Prep/KG and 1 in guiding through the questions.

In student has registered as an individual participant, then the student will have to take exam from home.
Exam Fee
The exam fee for is Rs. 225.00 for students studying and enrolling from India. 

The exam fee for is USD 10 for students studying and residing outside of India
Marking Scheme is as below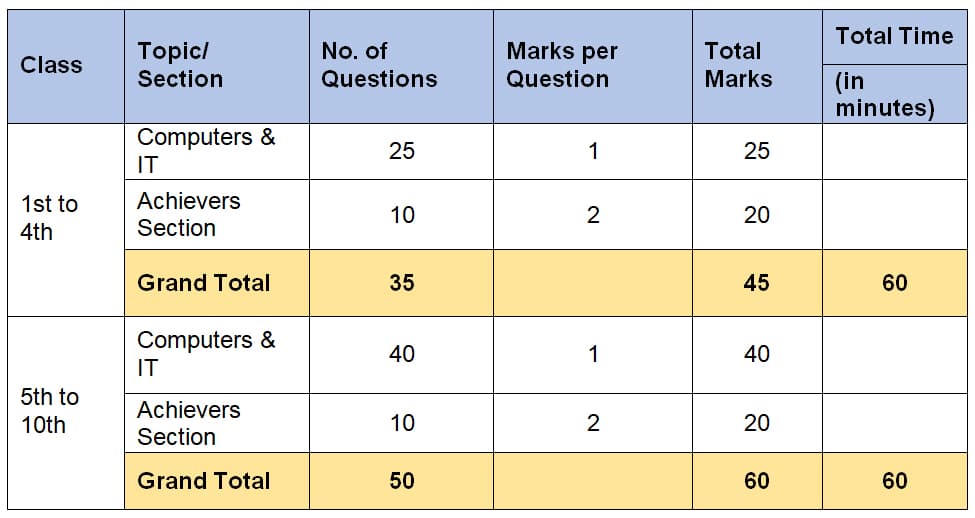 Note: For special needs students will get 50% more time than that given to the regular students of grades 1 to 10 and will be assisted by parent/teacher.
For more details, Please visit the link https://www.crestolympiads.com or contact Indian Online School at +91-7993461226